Wir sind skinny lift
Hinter skinny lift® steht die gbo Medizintechnik AG mit Sitz in Rimbach/Odenwald, die sich als langjähriger Systemlieferant für Siemens in Entwicklung und Produktion einen Namen gemacht hat. Die Firmengeschichte geht auf das Jahr 1969 zurück. Das Produktportfolio des Unternehmens reicht heute von der physikalischen Therapie über innovative Behandlungen in der Medizintechnik sowie apparativen Kosmetik bis hin zu medizinischen Behandlungen für Body Sculpturing, Body Contouring und Anti-Aging. Unter dem Dach der Marke skinny lift® präsentiert das Unternehmen drei innovative Behandlungskonzepte: skinny lift® LIPO, ein Gerät zur Fettreduktion über HF sowie skinny lift® CONTOUR, ein Konzept zum Body Contouring und Anti-Aging mittels Ultraschall und Hochtonstrom. Beide Geräte sind im Medical Aesthetics Bereich angesiedelt. Das dritte Produkt ist skinny lift® REFINE NiSV, ein Gerät zum kosmetischen Anti-Aging für Gesicht, Hals, Dekolleté und Hände.
skinny lift LIPO – Professionelles Body Sculpturing | für Ärzte
Fettreduktion mittels High Frequency Behandlungen sind ein neuer Trend im Bereich Medical Aesthetics. Es wird erfolgreich eingesetzt, um unschöne Fettanlagerungen am Körper ohne chirurgischen Eingriff zu reduzieren. Die Erwärmung des Fettgewebes erfolgt im elektrischen Hochfrequenzfeld. Dies ist besonders effektiv, da sich das Fettgewebe bei diesen Frequenzen um den Faktor 10 erwärmt - im Gegensatz zu benachbarten Muskeln oder andere Zellen. Damit ist diese Temperatur perfekt geeignet, um lästige Fettzellen abzutöten. Die Behandlung wird mit einem absolut neuartigen Applikator durchgeführt, der die derzeit größte Behandlungsfläche auf dem Markt bietet. Das Fettgewebe wird selektiv erwärmt, indem der skinny lift LIPO Applikator an der zu behandelnden Stelle platziert wird.

Mehr zu skinny lift LIPO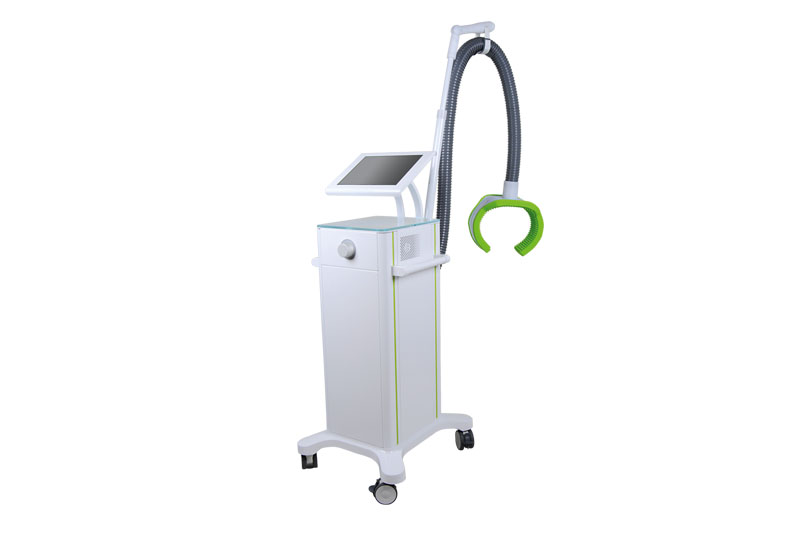 skinny lift CONTOUR – Anti-Aging und Bodycontouring auf höchstem Niveau
skinny lift CONTOUR ist eine Kombination aus Ultraschall und patentiertem Hochtonstrom, die Wirkstoffe gezielt in die Haut einbringt und anschließend gleichmäßig verteilt. Schwinger mit niedrig-intensiv gepulsten Ultraschallwellen (LIPUS) bringen die Wirkstoffe in die Haut ein (Phonophorese), Hochtonstrom (HiToP®) sorgt parallel für ihre gleichmäßige Verteilung (Elektrophorese) und aktiviert die körpereigenen Anti-Aging-und Contouring-Prozesse. Zellneubildung, Kollagen-, Hyaluron- und Elastin-Produktion werden angeregt. Die Behandlung wird mit den speziell entwickelten Applikatoren und Gelen durchgeführt.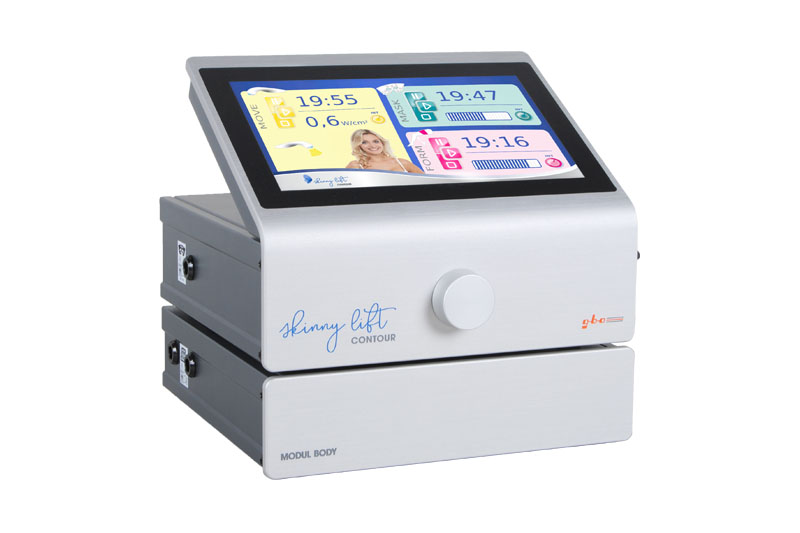 skinny lift REFINE – nachhaltiges Anti-Aging | für Kosmetikerinnen.
skinny lift REFINE NiSV ist eine einzigartige Kombination aus Hochtonstrom und Ultraschall und regt so die hauteigene Kollagen-, Hyaluron- und Elastin-Produktion an. Das Gerät verfügt über vier unterschiedliche Hochtonstrom-Intensitätsstufen, sodass die Behandlung individuell auf die Kunden abgestimmt werden kann. Zudem gibt es die Möglichkeit, zwischen den drei Impulsvarianten "Slow", "Medium" und "Fast" zu wählen. Die Behandlung wird mit den speziell entwickelten Applikatoren und Gelen durchgeführt.

Mehr zu skinny lift REFINE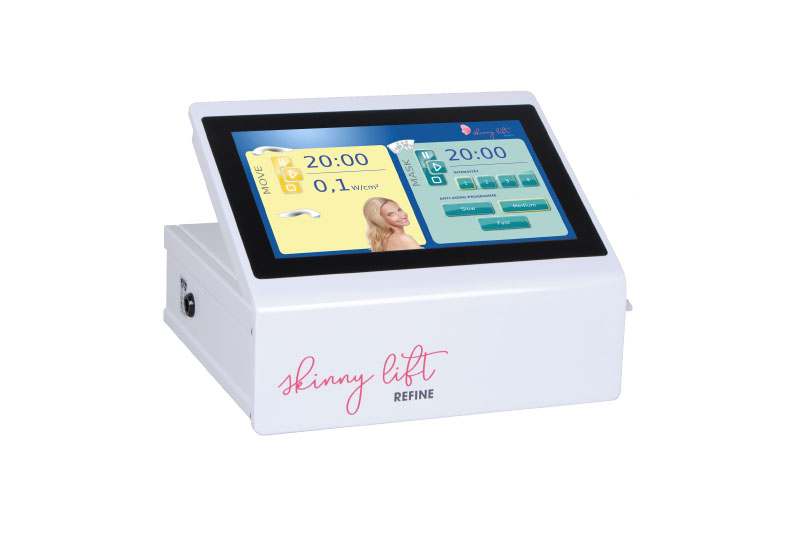 Kontakt
Sie haben Fragen oder benötigen weitere Informationen rund um skinny lift? Dann sprechen Sie uns an.
Deprecated
: The each() function is deprecated. This message will be suppressed on further calls in
/srv/www/vhosts/www.skinnylift.de/plugins/content/breezingforms/breezingforms.php
on line
192
*
Pflichtfeld
Diese Daten verwenden wir ausschließlich für den Versand der angeforderten Informationen und geben sie ohne Ihre ausdrückliche Zustimmung nicht an Dritte weiter.